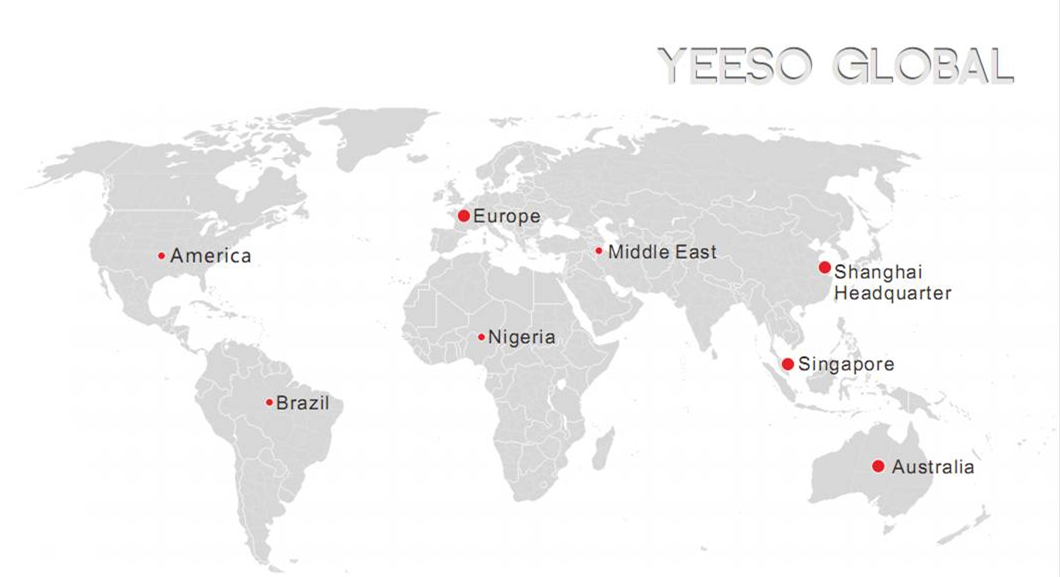 After Sale Service commitment 24 hours service hotline:800-820-8551
YEESO Multimedia Mobile Tech (Shanghai) Co.,Ltd is committed to providing high quality products and service to global customers in order to build a better product experience.
In China, YEESO has strong technology and experienced team of engineers in the field of LED advertising vehicle, 7x24 service hours. Our professional service and rapid response of our technical personnel will reduce losses caused by equipment failure to minimum. Globally, YEESO's customers can enjoy the service of our agents and after-sales service network provided by Headquarters. YEESO also send our engineers to do on-site maintenance and support. We have a truly professional, efficient after-sales service system.
---
A) Product maintenance program
(1) Warranty Commitment: For the mounted outdoor LED full color display on truck and other hardware/software equipments, we offer 12 months free warranty period. The product free warranty period start from the date of acceptance. During the warranty period, YEESO provide free warranty service. After the warranty expires, YEESO will still provide life-long maintenance, such as quick replacement of the vulnerable parts, technical support, hardware and software maintenance service at a few costs. In order to keep all systems to operate normally, the maintenance services we provide are as follows:
1) Application Maintenance Support: responsible for software bug fixes,finding solutions for malfunction, function adjustment. We will offer our clients the front line personnel training, etc. The training will cover all the related systems.
2) Hardware and software Technical Support: We support all the related operating systems and softwares including database systems, network systems, middleware software system. We are responsible for updating / upgrading software systems, offer solutions to the system failure or bugs,help solving all the software problem. and offer you training on how to operate, maintain our system.
3) spare parts management support: the company will organize various types of equipment as spare parts.Our technical support team will offer you help according to the actual use. We will provide replacement and repair services to ensure the normal operation of your LED system.
4) user profile management system
The company established a complete in-house user profile. We offer regular telephone visit service for your project. All the product tracking, customer profiles or data are accurately recorded in our data base. With this system, we can accurately locate objects and provide services, while create a space for product upgrades.
For those companies who have signed contract with us, our customer service professionals will also establish a file that contains basic information of the product we've sold to them, such as customer-related parameter setting, historical archives and other information. This will hep us to find solution quickly for our clients.
5) Users Hotline Support System
Users hotline support system will provide our users with product consultation, problems resolving, failure avoilding. We set up a technical support center and 24-hour free service hotline. Users can contact us to solve the problem.
For any system failure, our technical support center will arrange engineers to communicate with you concerning the malfunction. We will help solve the problem as fast as possible.

---
B) The service system operation plan
2.1 warranty period
1) The free warranty period start from the date of acceptance and inspection. The free range includes spare parts, labor costs, maintenance fees, software maintenance and upgrades required for maintenance. For major events, our professional and technical personnel will offer on site "escort services."
2) Maintenance: We can offer you thorough cleaning of all equipment, repair and maintenance services.
Technical Services: We will offer you additional service and instrcutions according to your requirement which is writen in our contract.
Installation: We sent technical personnel to the end-user offering on site installation and commissioning.
3) Technical Training: We provide software for the user side. We offer safe operation, routine maintenance and knowledge training, the number of participants is not limited.
① Providing hotline support. For any problems in case of maintenance or operation, please call our after-sales maintenance services, technical staff will consult the relevant issues, such as real-time technical issues which were not resolved, We will send maintenance personnel to the scene.
② During the warranty period, YEESO is responsible for maintenance and repair of all equipment accoridng to contract, for any accured damages due to product design, installation techniques, material broken, we will offer you free replacement and maintenance.
③ When the system software need version upgrades, we will offer free software upgrades for your equipment, upgrade them to the latest version.
4) Re-sale and spare parts supply system:
We will get an annual sales record of delivery record, and carry out statistic analysis, archiving and service improvement according to the various districts we've visited. We will offer vehicle equipments repair and spare parts supply according to the actual needs of the buyer or the user. We will build customer profiles by region, helping our customers to solve practical problems. We will try to correct the deficiencies so as to develop our company.
2.2 warranty period
① During after the free warranty period, YEESO provide the same level of spare parts, special tools and other users. These spare parts can be used as an emergency replacement. They can be used to replace the failure system directly and avoild malfuction.
② After the warranty period, if the LED module, power supply, control system failed, the user can directly send the malfunction part to the maintenance headquarters. Our technical staff will inpect it and repair it. Then we will promptly return it to the user. If cases that the malfunction can not be repaired, we can provide users with the new spare parts for complete replacement. We only charge material cost.
③ After the warranty period, if you meet problems again, and it can't be solved over the phone. YEESO will send technical personnel to operate on-site inspection. According to the distance between Shanghai and your service area. We will charge cost for the material costs and travel expenses.

---
C) Additional instructions
Our "Three Guarantees" service does not include all the damages caused by negligent, careless, accidents, misuse, operation against product instructions. It does not lossed due to illegal transformation, stolen or lost parts. Any non-authorized actions of the user in maintenance, alteration, or unauthorized changes in the system that causing damage arise, they will be covered within this warranty provision.

---
D) Training solution
1, the number of training receiver of the use party is not restricted;
2, the training content:
1) We will show you how to manage the LED screen control system and how to install the LED software;
2), We will teach you how to use the software (video and audio equipment);
3), Instructions on the basic equipment of each system, how they work
4), safety procedures of each system equipment
5) Caution during your operation;
6), routine equipment maintenance;
7), multimedia system basic troubleshooting;
8), the LED screen's troubleshooting.
3, the training target
Let consumers and operators to a preliminary understand how to use our equipment safely and correctly? How to reduce system failures due to improper use? How to avoid the conventional operation error? How to judge the cause of system failure on your own. How to maximize the full capabilities of each system devices so as to meet the user's needs.
4, Training time and place
1) It start from the beginning of the delivery of equipment. We mainly offer you the systematic training to enable users to understand the equipment operating procedures, each system's theory, debugging steps. Duration will be 2-3 days.
2) Trainging on LED display control software, LED editing software, usage of proprietary software, system theory, failure cause judgement.It start from the date of system debugging. Period: 3 days. Location: project site.
3) After the inspection of your company, we can send technical personnel to your project place to offer futher instrcution and installations if your project is near by. The time last one week. Additional training at any time according to the operating personnel usage.
5, the usage of training facilities, training materials, information
1) training in how to use computers, displays, training materials. Information provided by YEESO.
Fundamental Information including computer theory textbooks, audio and video systems operation manual, electrical operation manual, a variety of software for use, LED display principle, system structure cabling instructions, symptoms and cause of the malfunction description, the use of instruments and so on.
2) a set of training facilities, including simulated system, related instrumentation, related tools.
6, the name of the teaching staff, title, requirements for trainees
We requires trainees to learn the right attitude, college education, have a certain ability to accept. Because there are basic computer operations, it is best the trainees know about image processing software.
7, the effectiveness of training and assessment
● canuse our equipment independently;
● able to skillfully use the various functions of multimedia systems;
● able to skillfully use the display application software, programming software;
● be able to handle simple, common faults;
● to properly perform routine maintenance of equipment and related equipment;
● able to correctly describe the general breakdown phenomenon;
● enable to keep system work functionality.
8, training courses
Period
Days
Content
First Period

first day
Basic knowledge of vehicles

first day

LED Display working principle
Second day
LED Display broadcast system's operation procedure and management

Second day

Programming skills

Second day

System routine maintenance and safety precautions

Second day

Field Production Assessment
Second Period
Third day
The working principle of Multimedia devices

Third day

Simple Troubleshooting method and emergency plan

Third day

Practice Assessment of vehicle maintenance operations