Global market
As the ealiest LED mobile truck supplier and exporter, Shanghai(YEESO)has a wide selling net work which covers more than 70 countries.such as: USA, Brazil, England, Spain, Armenia, Nigeria, Madagascar, Sudan, Ghana, Qatar, Saudi arab, Kesov, Russia, Australia, Malasia, Philippines. Because different countries have different importing restrictions, YEESO offer our different client with customized soltions in terms of technical support, export method, design so as to make sure our LED vehicle can be used successfully in the target country.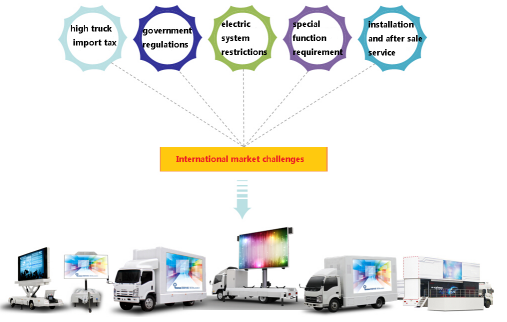 Solutions
For the foreign clients, YEESO offer more flexible solutions. We can not only export entire LED truck to clients, also export the mounted LED truck box to clients according to the dimension of local chassis. We can send our engineer to your country to offer installation instructions so as it can pass the local road regulations. Our LED truck has following features:
⊙ A wide range of products to meet client's specific needs YEESO export not only trucks, but also trailer, mounted truck box, scooter, motor bike, container, all forms of advertising vehicles. We forge the best LED advertising vehicles for our clients.
⊙ Comprehensive technical support For the countries which need papers to pass the license application. YEESO will provide them with detailed technical parameters so as to help our clients legally run the truck on local road.
⊙ High quality can meet EU standard YEESO LED vehicles apply the EU standard electric system. We can adjust our electric system according to their country. We will keep the product run steadily and safely.
⊙ Solid Product Packing and official export method YEESO has long years experience in the packing our vehicles and exporting it. We have been cooperated with strong and steady shipping agencies which can let the foreign clients receive our goods more safely.
⊙ On site installation and global after sale service YEESO's products and after sale service have covered the global market.We offer our clients the best service and in time instructions. For all the malfunctions and questions, YEESO will offer our solution as soon as possible.We are trying to build an international brand, we will carry the responsibility and duties to serve our global clients well.


---