Customized Multi-Function Truck Transformer-Megatron
Product number::YES-LUSSO Transformers - Optimus Prime
---

◎ It use 9.6 meters long East wind sky dragon chassis, very strong to hit the road.
◎ It has lots of functions such as movie broadcast, stage performance, exhibits display and interactive experience.
◎ Automatic hydraulic design,can be easily set up and designed into a brand exhibition area.
◎ Customized features, can be designed as mobile food truck, mobile casino, mobile office, musical truck, mobile amusement vehicle, tourist truck, limo, etc.
◎ Fantastic Lizard Shape truck body and truck head which made of fiber glass.
◎ Good interior design and humanization equipments which make it become a cozy room.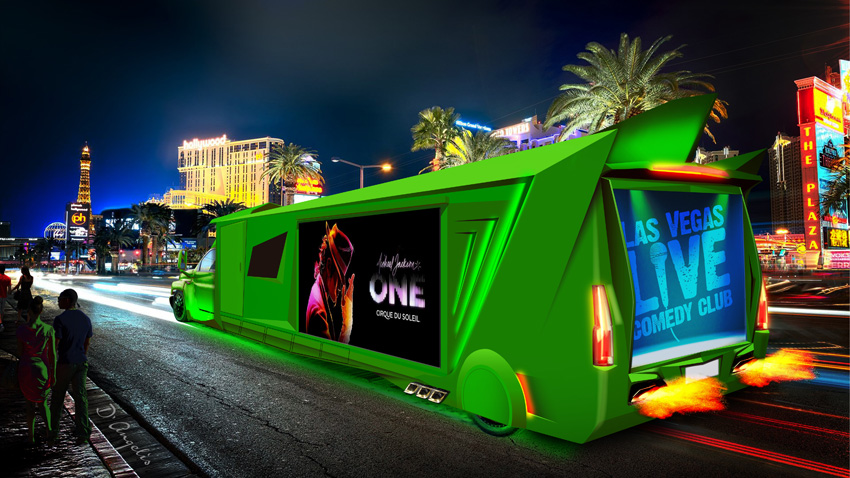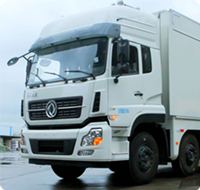 Model: Dongfeng Displacement / Power: 6L / 162kw
Transformer-Megatron truck use Dongfeng Tianlong truck chassis as the carrier, with a 220 horsepower Cummins ISB series high pressure common rail diesel engine, its power is very strong. It can also meet the national IV emission standards. The cabin will streamlined mask, honeycomb shape front grille, modular crystal shaped headlamps , together with large-scale three-dimensional "Dongfeng" logos, it will leave a deep impression for clients. The driving room has pacious and comfortable driving space, and humanized interior design, as well as high security level.

Transformer-Megatron truck is equipped with outdoor full color LED screen. Its size is around 7.4 sqm. Its size can be customized according to client's requirement. The LED screen have slideable door plank. You can close the plank to protect the LED screen when your event is finished.
YESSO have a LED screen production line specially arranged for LED vehicles. We choose high brightness LED chip and fine raw material to build the LED screen. We apply high refresh rate technology to keep the LED screen have a smooth picture. YEESO have years of accumulated experience and advanced technology to improve our cabinet design, connector design, waterproof and shockproof design. The LED can also interact with people by applying special software. The brightness, content of the video , volumn of sound can be changed by cellphone. We can make sure that the quality of our LED display to be the best.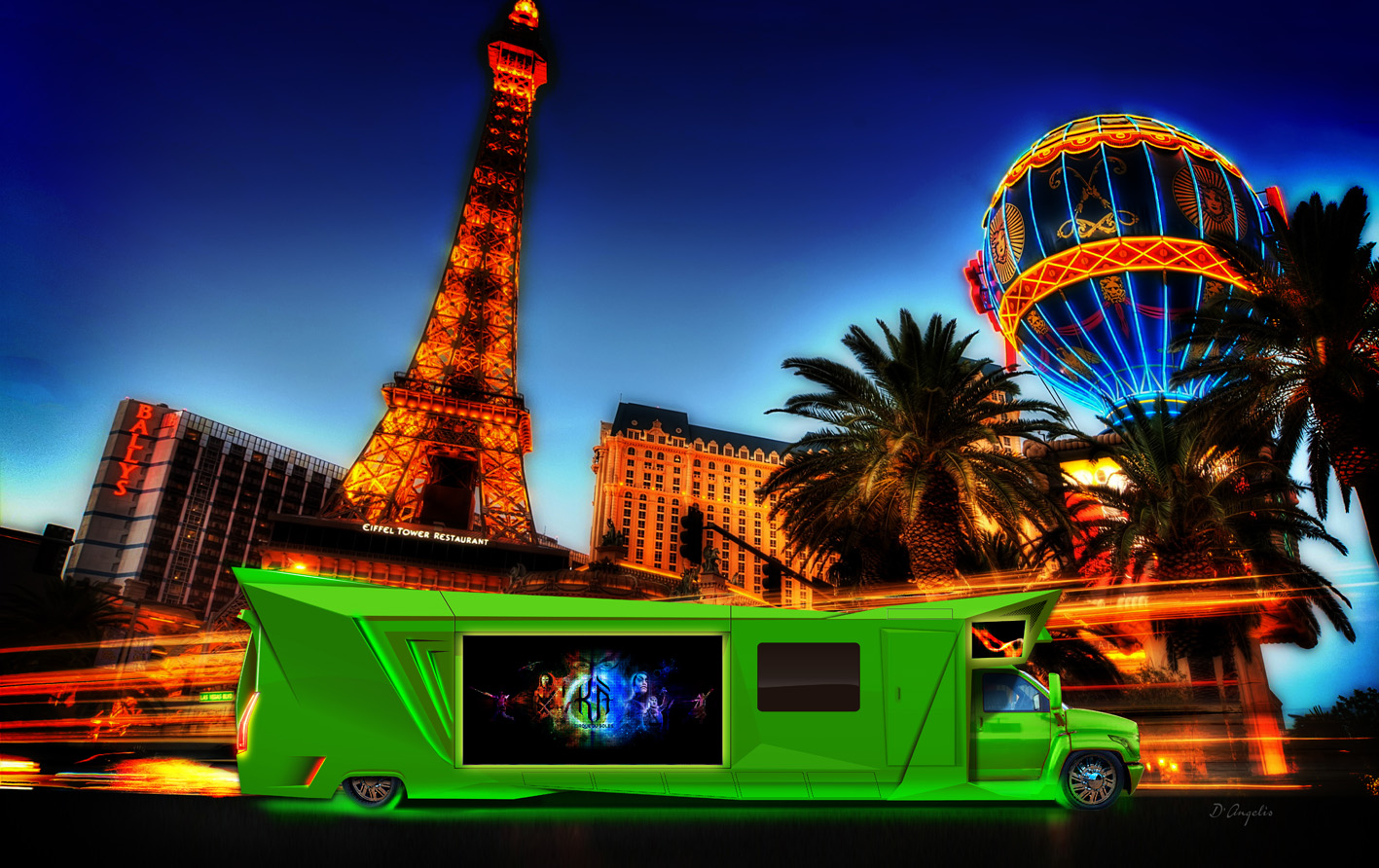 Transformer-Megatron truck is equiped with 7㎡ automatic hydraulic stage to facilitate a variety of stage performances such as product demonstrations and other activities. Inside the stage, we use 20mm crack waterproof bamboo plywood, we use leather surface stage floor and hydraulic supporting legs. Our stage has a high tolerance stage frame structure, the stage plate can bear the weight per square meter up to 200KG, exceeds the strength of iron, so as to ensure the safety of personnel.
The hydraulic stage have two control system: manual control and wireless control. Remote operation is simple and convenient. The stage can be easily set up in a short time. Stage has a fence and a step-ladder. Around the Stage we have extented panels as an extension of the exhibition space.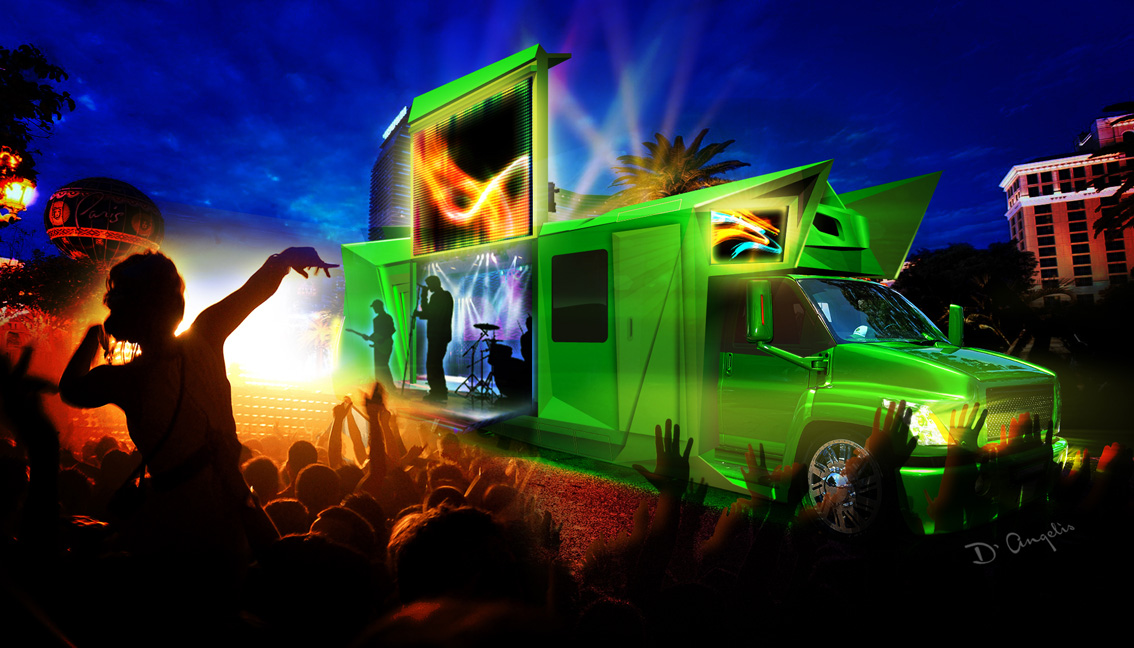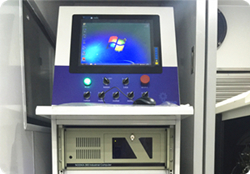 Electric System:YEESO designed a vehicle-specific 16KW pole ultra-quiet generators. It has the features of low noise, low fuel consumption, light weight, easy to start and reliable to run.It has many advantages in its wink intake and output capacity, automotive shock-proof design, noise reduction and heat dissipation. For other major electrical components, we use Omron or Schneider brand. The whole vehicle has passed through the EU certification, it is completely compliant with EU safety standards.
Multimedia devices:YEESO control panel cabinet has combined the vehicle-specific industrial computers, embedded car LCD monitors, high-power amplifier, speakers and so on. All the power, screen lifting system, hydraulic stage flexing system can be controlled by center control. It is very easy to use.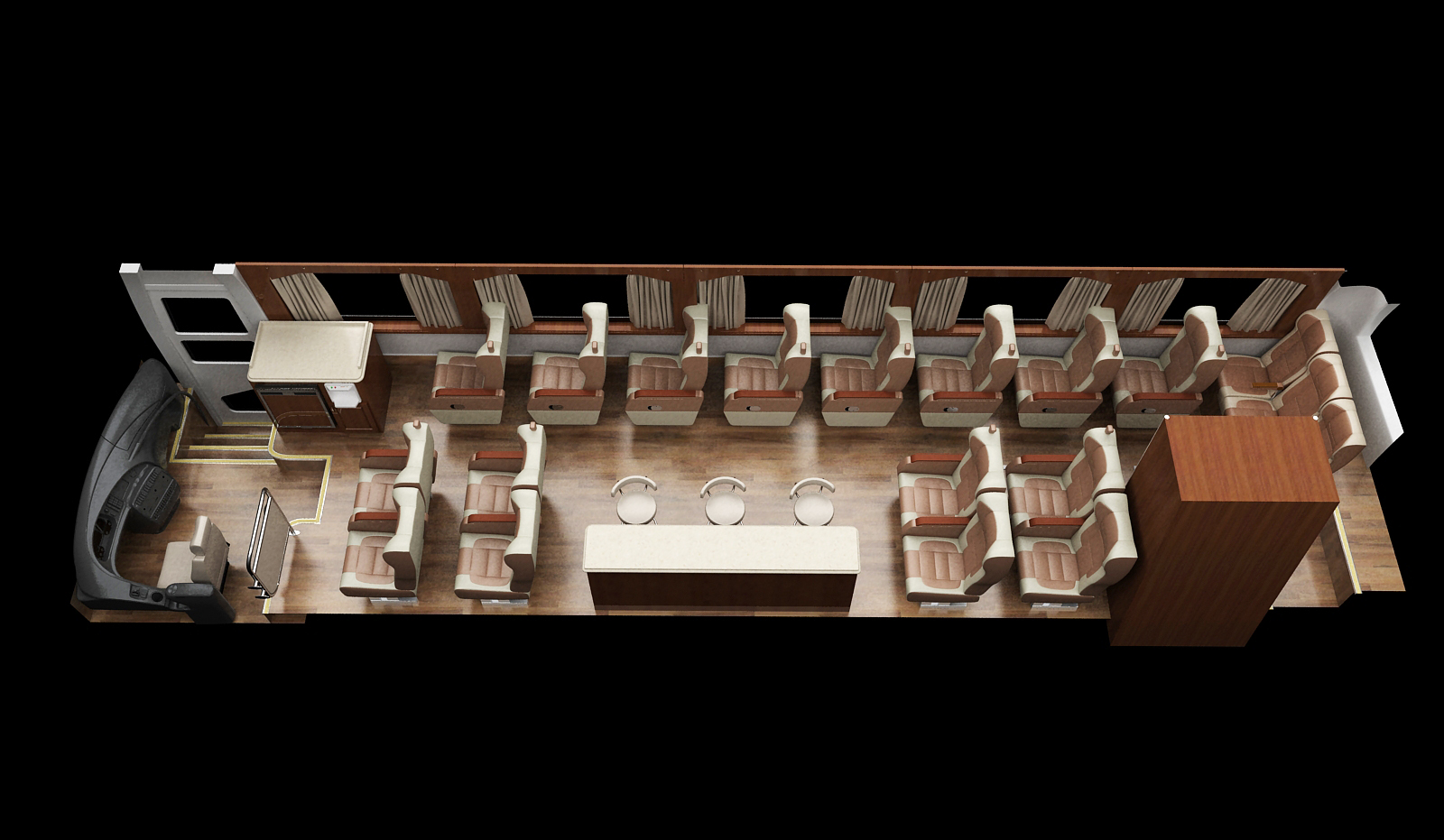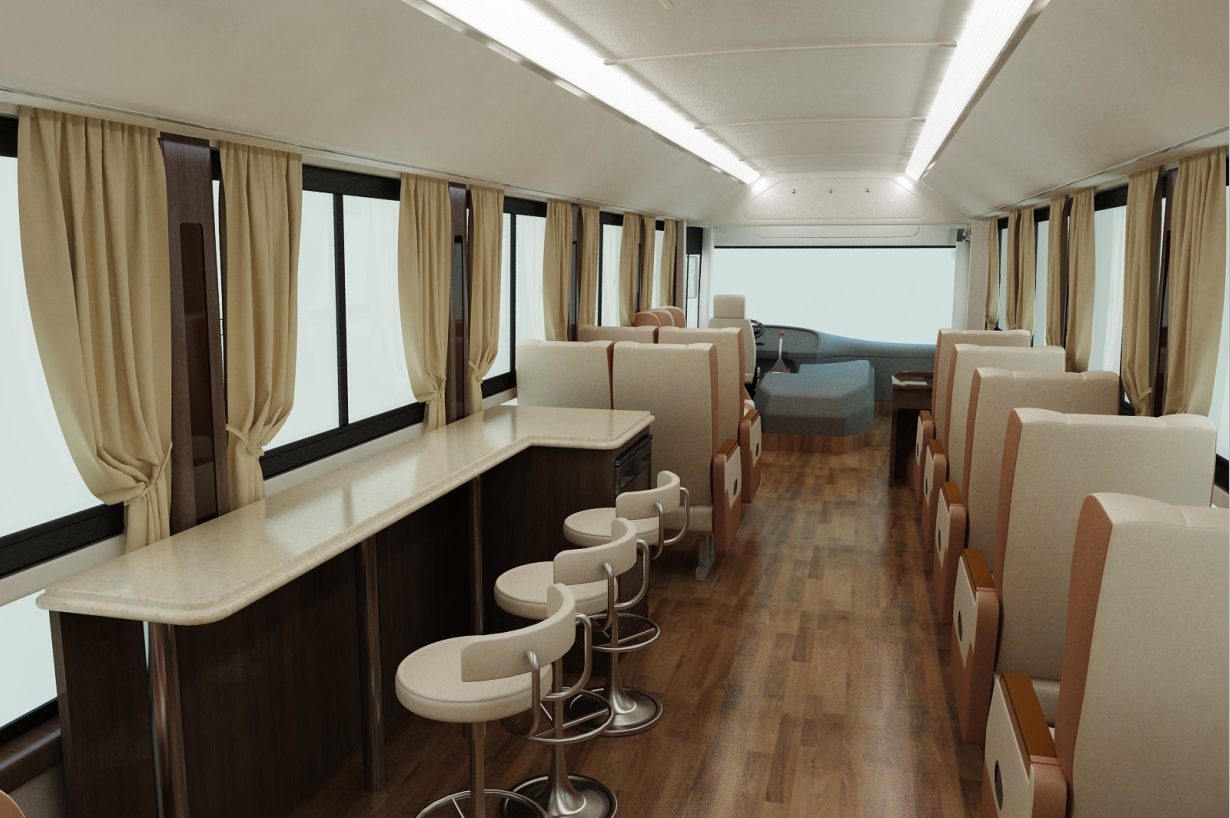 Transformer-Megatron truck has a large interior space around 9000mm×2000mm×2200mm, it can be renovated into mobile restuarant, mobile casino, mobile office and so on. We stick to elegant inner decoration and cozy environment. We use white light aluminum panels and apply gluing process between gaps; At the top of the interior room, we install LED Lamp. In the control room and generator power room, we use high aluminum lamps.; we install built-in air-conditioner, and apply a flap wood floor on the stage surface, nice ceiling at top, curtain beside windows; The generators are hiden at tail with sound proof material. There is many seats, bar table, mobile toilet, air conditioner, refridgerator and other customized equipment. Customers can fully use their own decoration method according to the actual needs or ask YEESO to do for them.

Tech Parameter of

YES-LUSSO LIZARD Truck

Truck Dimension

Chassis Model
Dong Feng East Wind
Emission standard
Euro IV
External Dimension

11600mm×2550mm×3930mm

Total Weight
25000kg
Wheelbase
1850mm+5450mm
Curb Weight
17805kg
Generator Power
6L/162KW
Passenger number
3 people

Mounted outdoor LED Display

LED Screen Dimension
3840mm×1920mm
Pixel dimension
6mm
LED Chip
R、G、B: Epistar

Model dimension
192mm(W)×192mm(H)
Brightness
≥6500cd

Max Power Consumption
1000W/㎡
Average Power consumption
500W/㎡
Life Span
100000H
LED Screen Protection Board
The LED screen has a movable cover, which can protect the LED screen from harm





Automatic Hydraulic Stage

Hydraulic Stage Space
3700mm×2000mm
Material
Elastic Board+Floor
Stage Load Capacity
200kg/㎡
Stage Ladders
800mm wide×2 units
Stage stretching way
It will stretch and flex in by hydraulic powe, the stage supporting legs are under the stage
Supporting devices
Stage fence

Screen Lifting System

Lifting system
Hydraulic Lifting
Lifting Height
1800mm
Hydraulic Supporting legs
Four supporting legs,lift up by 300mm,each can support 3T





Super Quiet Vehicle Specified Generator

Brand
YEESO
External Dimension
1540mm×780mm×1070mm
Power
16KW
Power
Super quiet
Fuel Type
Diesal
Cylinders
Water cooling, four cylinders
Displacement
4.33L
Cylinder diameter×Stroke
114mm×120mm

Electric system(Hydraulic remote control)

Input voltage
380V
Output Voltage
220V
Current
50A
Power consumption
average power comsumption: 0.5wh/㎡
socket

six sockets totally

Hydraulic devices

All hydraulic movement can be realized by remote control or buttons of control panel (including pause)

Multimedia System

Industrial Computer

Processor: Core Duo CPU, graphics card: 1G, hard disk: 500G, optical drives: DVD, Memory: 2G

Monitor
15 inch LCD monitor
Power amplifier
200W
Speakers
200W
Control system
LINSN/YEESO Point by point correction technology





External Frame Structure and Inner Decorations

Surface color
white
Inner space
7200mm×2000mm×2300mm
Inner decoration

white light aluminum panels and apply gluing process between gaps; At the top of the interior room, control room and generator room, we install LED Lamp.

Container windows and doors

Four doors totally,

Three harden glass windows totally

air conditioner
imported hanging type vehicle specified air conditioner
carriage material
steel skeleton+alluminum board
Seat numbers
12-20 seats
Table
1- 2 bar table
Toilet
1 mobile toilet
refrigerator
1 refrigerator

Other Options

1.LED Screen Resolution(P10、P8、P6)、size

2.surface glue(customized)

3.RVC、automobile data recorder、video processor

4.Extended room

5.ISUZU Truck Chassis, Foton Truck Chassis



---
GET A QUOTATION & DETAILED SPECIFICATION